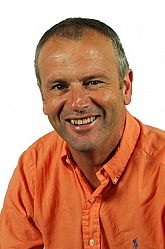 Graham Jones, who has over 20 years experience of performance consulting, formed Top Performance Consulting in October 2010. Prior to his appointment as Professor of Elite Performance Psychology at the University of Wales, Bangor, he was a reader in Sport Psychology at Loughborough University.
Graham has worked closely with Olympic and World Champions, elite military fighting force personnel and senior leaders and their teams in FTSE 100 and Fortune 500 companies.
Graham has more than 150 publications in the area of top performance. These include four books, numerous groundbreaking studies in scientific journals and applied articles that demystify and unravel complex concepts and theories in human performance psychology.
His recent publications include: 'Leading from the Bottom' published in Leadership Excellence and 'How the Best of the Best Get Better and Better', published in Harvard Business Review. His fourth book, Thrive On Pressure: Lead and Succeed When Times Get Tough, was published by McGraw-Hill last year.
In 1995, Graham co-founded Lane4, a leading performance development consultancy. In 2010, he left Lane4 to rediscover the challenges and excitement of founding a new business and so in October 2010, Top Performance Consulting Ltd was born.
As well as having been very active as a coach of high profile leaders and their teams, he has also worked on large-scale initiatives around organisational change, mergers and acquisitions, and global rollouts of people development programmes.
Graham's experience in sport includes consulting with numerous elite athletes, including World Champions and Olympic medal winners, professional golfers, and world-ranked performers from a variety of sports. He has also worked with numerous leading organisations including; Goldman Sachs, Coca-Cola Enterprises, The Coca Cola Company, JP Morgan, HSBC, Deutsche Bank, Roche Pharmaceuticals, UBS, Aon, Daimler Chrysler, Sainsbury, CRH, 3M, National Grid, British Airways, easyJet, Accenture, Dyson, Ericsson and Fujitsu. He has also worked closely with the Royal Marines.
---